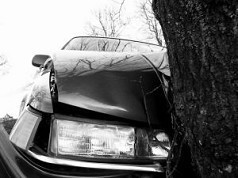 The motor vehicle insurance policy holder has the right to choose the repairer who they want to carry out the required repairs and is not obliged to use only the insurance companies appointed repairer,This is by law....
This has been agreed between the Office of Fair Trading (OFT) and the Association of British Insurers (ABI).
The only exception is where this, for commercial reasons, has been made an express condition of the policy and has been written into the insurance policies terms and conditions to which the policy holder has been made aware.
Insurance companies arrange accident repairs to keep their own costs down. Does keeping their costs down mean repairing your car cheaply? What level of service and quality of repair will you receive? Will original manufacturer parts be used or imitation parts? Will your manufacturer warranty remain intact?
Imitation, or non QE, parts may not fit correctly. They are sometimes provided without surface or rust protection. Using non OE parts may invalidate the maunfacturers warranty. You and your family will travel in your motor vehicle at speeds up to 70mph. Do not accept any compromises in the quality of repair to your vehicle.
Industry Auto Services will manage the insurance claim, saving a lot of time and hassle, your rights in this area were confirmed by a directive from the Office of Fair Trading issued in 1993.

The following is an extract from an article published in the Daily Telegraph:
Around 75% of all car accidents are controlled by insurers through their call centres. They send policy holders cars for repairs to 'approved' garages that they, the insurers, have chosen to be on their networks. This enables insurers to dictate the level, quality and cost of service to be provided to their own customers.
Consumers might think that insurance company 'approval' means that repair shops have the correct skills and equipment to undertake proper and safe repairs. While it is true that repairers have to get the right tick in the box before selection, little of that information pertains to their technical skills and equipment. This is simply not good enough in a world where cars and repair equipment are becoming ever more complex.
When the worst happens, if it's your fault or not, simply call Industry Auto Services the professionals. At our accident repair centre we are dedicated to quality of work, efficiency and most of all customer satisfaction.
One thing to remember when it comes to your Insurance company it's your car and you can choose who repairs it. A lot of insurance company's try to get you to go to their recommended repairer but you don't have to all you have to tell them is where you want it to be repaired and it is illegal for them to sway you to go anywhere else.The OFT, ABI and the FSA all agree its your right to choose where you have your own vehicle repaired..

Here at Industry Auto Services we work with all the big insurance names and can handle your claim provided that you state you want us to repair it. We have a good working relationship with such as ALLIANZ , LV, AXA, AGEAS, AND MUCH MUCH MORE so please call us before your insurance company and we can get the claim started.
We can handle your claim from start to finish, ensuring you of our personal attention at all times.
At Industry Auto Services our main objective is to return your damaged bodywork to the same standard as when it was first manufactured. This means the parts you cannot see such as internal welding and realignment of chassis, and those you can like the perfect colour matching of paintwork by our highly skilled paint technicians, and using the latest computer system.
Industry Auto Services only employ the very best, highly qualified technicians to guarantee the perfect repair and give you complete confidence in your choice of repairer.
As members of the Goodgarage scheme and FSB you can be assured that all repairs are carried out to the highest standard.
To find our more about our services please feel free to contact us. You are guaranteed a warm welcome from our friendly staff.
Remember the choice of repairer is yours, so why not choose the best. Please call us on 0114 285 2265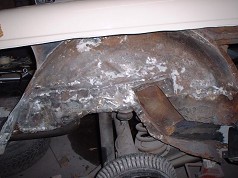 "The second generation SL began with the 230 of 1963. Designed by Paul Bracq, its wonderfully crisp styling clothed a monocoque chassis equipped with all-round independent suspension, power assisted disc/drum brakes, recirculating ball steering and a 2306cc straight-six engine of 150bhp and 145 lb ft of torque mated to either four-speed manual or automatic transmission. Of the 48,912 W113 Series cars made between 1963 and 1971, 19,831 were 230SLs.
This truly remarkable original UK, right-hand drive Mercedes-Benz 230SL has been subject to a restoration like no other, leaving no piece of metal unturned. Costing approximately £70,000 the restoration took three years for our specialists Ron Hextall and Wayne Walker to complete from 2006 until 2009.
Purchased by our vendor in 2006 the car was in seemingly running and good condition needing just a small amount of TLC here and there. However, on further inspection, the car needed far more work then initially thought. As more areas were investigated more parts of the car was found in desperate need of restoration. Thus the decision came to either to sell on a car mainly made of filler as a project, scrap it, or do a proper job. Thankfully the latter was chosen to and what began was a complete restoration in the true sense of the word.
Upon completion of the body work the car was professionally painted in its original Hell Beige (Bright Beige) with the restored hardtop finished in its original contrasting Old Brown. The car was then reassembled with the suspension and braking system being refurbished where salvageable or if necessary replaced using new parts.
Inside the car was similarly subject to a detailed restoration including a complete retrim and refurbish of the seats and door cards. Along with restoration of the dashboard, dials and the painstaking task of finding an original fitment Becker Mexico radio.
The car is presented with an outstanding history file, which can be traced back to the 1970s, but becomes much more complete from the late 80's onwards, with receipts for all the work done on the car from 1990 onwards. Of course present also are all invoices and documentation relating to its recent restoration including a memory card containing the aforementioned 1,100+ images detailing the project."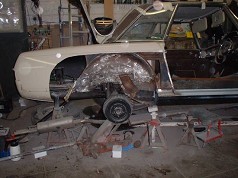 Words can do little to describe the level of work and effort that have gone into this restoration. They say a picture is worth a thousand words so it's lucky that the car has over 1,100 images documenting its strip down and rebuild other wise this description would be very long indeed! The body was stripped and every ounce of filler and rust was removed and new metal was fabricated in their place. This included almost entirely rebuilding the rear end of the car along with most of the front end, not forgetting of course complete new sills and floor pan in-between.
The car was fitted with a correct 230SL factory replacement engine this believed to have been mounted in to the car in the mid 1980s the engine number of this engine is the correct engine number displayed on the V5C document. Whilst the bodywork was being reconstructed the engine was stripped, checked and rebuilt as was the car's original manual gearbox, which was fitted with new synchromesh rings all done using Mercedes sourced parts, as was the case throughout the restoration
Testimonial from Tony Marshall, former owner of the SL230